Over 50 people gathered at Anne Arundel Medical Center (AAMC),  including employees from ten Maryland hospitals, April 27th for the hospital's Trailblazer educational event, Greening the Surgical Services.
AAMC was one of five hospitals to win Maryland Hospitals for a Healthy Environment's (MD H2E) annual Trailblazer Award, given to Maryland facilities or health systems that have shown leadership in advancing sustainability in a particular area or areas of their operations. The awards are presented at MD H2E's November conference, Environmental Excellence in Health Care. Each winner hosts an educational event to showcase its award-winning green initiatives.
President and CEO Tori Bayless offered opening remarks, while speakers included Patty Schiro, Clinical Director, Hospital Pavilion Operating Room; Olive Murray, Operating Room Staff Nurse; and Charlotte Wallace, Sustainability Coordinator. Representatives from Stryker and Practice Greenhealth also presented.
AAMC is a national leader in greening its surgical services operation. The hospital replaced operating room surgical lights with LEDs, which not only save energy and last longer, but also do not give off heat or cast shadows (like traditional lights), a huge improvement for surgical teams. AAMC also started a program to move from disposable single use medical devices to reprocessed ones. The hospital put a surgical services recycling program in place and took additional steps to reduce the amount of operating room waste.
The surgical suite also switched to reusable, lighter microfiber mops, which only require one bucket of water per use, leading to less back strain for staff lifting heavy buckets. The old mops weighed five pounds wet, which meant 45,000 pounds of mops sent to the incinerator every year – adding to a hefty sum, since facilities are charged by weight.
AAMC's green initiatives have saved money, helped protect patient and employee health, and reduced its impact on the environment.  MD H2E congratulates AAMC on its hard work, incredible progress, and inspired dedication.
Look for our upcoming MD H2E May 2012 News Roundup for a more in-depth look at the event!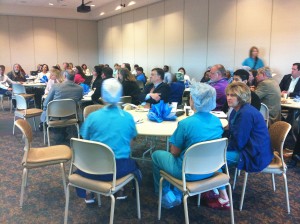 Attendees listen to presentations while enjoying a healthy lunch.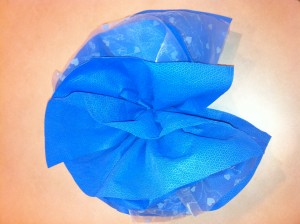 Beautiful centerpieces made out of recycled blue wrap!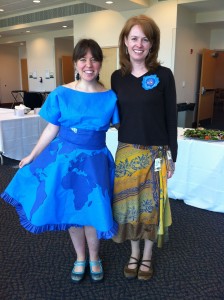 Reduction in Motion's Katie Peige shows off the dress she made of blue wrap with the help of Charlotte Wallace, Sustainability Coordinator, AAMC.